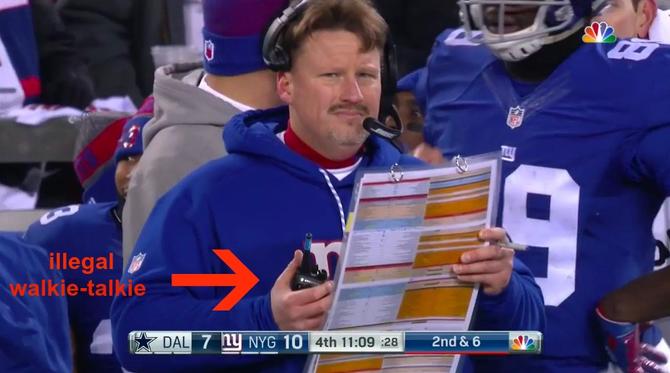 The NFL is investigating the Giants' potentially rule-breaking use of a two-way radio during the team's recent 10-7 win over the Dallas Cowboys.
The use of a two-way radio by a coach during a game is strictly against league rules, according to ESPN.
In the fourth quarter of the game, Giants head coach Ben McAdoo was spotted using a walkie-talkie to communicate play calls with Eli Manning after his headset malfunctioned.
The Cowboys issued a formal complaint to the league over the radio use, but the NFL's investigation was already underway by the time Dallas contacted them.
The NFL has a rule against coaches using two-way handheld radios because the league cannot control when both parties are communicating.
A coach using a walkie-talkie makes it harder for the NFL to monitor a league rule that states communication from the sideline to the quarterback must end when 15 seconds are left on the play clock.
With headsets, the NFL has the power to shut off communication at will with a "cutoff switch operator," ESPN reported.
The Giants had no comment when reached Thursday night.
McAdoo used the walkie talkie in question, however, for about four or five plays on the Giants' fourth-quarter drive that ended in an Eli Manning interception on a pass intended for Victor Cruz.
McAdoo's normal equipment malfunctioned and as the Giants worked to fix it, the coach was handed the walkie talkie temporarily because its signal was reaching Manning's helmet.
As the Giants worked to correct McAdoo's equipment, Odell Beckham Jr. could be seen running to the sideline to bring plays back to the huddle and Manning was heading over to the sideline, as well.
There is no evidence in reviewing the game film that demonstrates McAdoo was on the walkie talkie for longer than the allowed 15 seconds of communication with his quarterback.
There is also, of course, no evidence that the Giants gained any advantage even if he was. The drive ended in a turnover and the Giants' offense stunk most of the night.
Source: https://www.nydailynews.com/sports/football/giants/nfl-investigating-giants-two-way-radio-cowboys-article-1.2912399