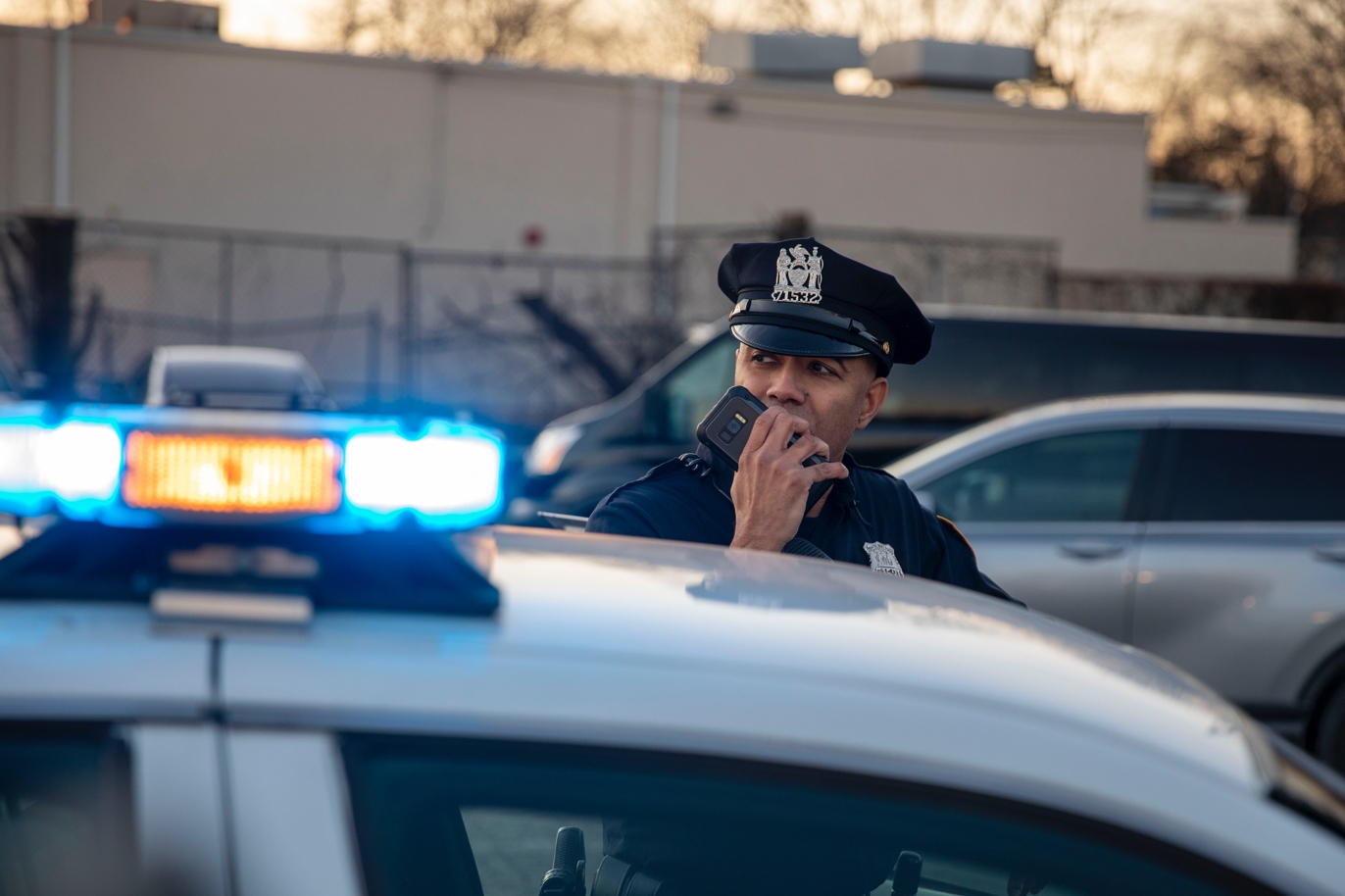 FirstNet Push-to-Talk (PTT) service, provided by AT&T, delivers the performance that public safety needs and can be an LMR alternative for some agencies, according to the captain of a New Jersey police department that conducted a beta trial of the new offering.
"I think it's really going to be a game-changer for public-safety communications," Capt. Guy Patterson of the Cranford (N.J.) police department said during an interview with IWCE's Urgent Communications.
"I absolutely see [FirstNet PTT] as a replacement, especially as this current generation of Land Mobile Radio (LMR) inevitably advances to whatever the next generation is. When it's time to make that move, and you have to do a very large capital project to update your infrastructure and everything else, it makes perfect sense just to abandon the LMR completely and go with the FirstNet Push to Talk."
Cranford police trialed FirstNet PTT service using FirstNet Ready Samsung Galaxy XCover FieldPro devices for almost three months at the end of 2019 and during the early portion of this year. Cranford police has used AT&T carrier-integrated PTT and currently subscribes to Enhanced Push to Talk (EPTT)—both leveraging Kodiak technology owned by Motorola Solutions—but personnel were especially impressed with the new FirstNet PTT, according to Patterson.
"All of them have been useful, but with the latest version [FirstNet PTT], the clarity and the speed is noticeably improved," he said.
"The voice quality on [FirstNet PTT] is probably better than LMR—it really is. It was crystal clear. Almost universally, of the detectives and officers that tested it, they all noticed it and said that … They were almost surprised that it was the same system—only advanced—as the Enhanced Push to Talk."
For years, industry experts have said they expected MCPTT-compliant services could provide better on-network voice quality than LMR, because higher-level codecs can be used, thanks to the closer proximity of LTE devices to cell sites and the fact that LTE makes much more bandwidth available than a narrowband LMR system.
Meeting the public-safety standard for latency was expected to be much more challenging for MCPTT providers, but FirstNet PTT "absolutely" met Cranford's public-safety standard for latency, Patterson said.
Patterson also emphasized the "ease of use" of FirstNet PTT, citing a hypothetical example of detectives conducting surveillance.
"Say there are six of them watching a location from six different areas and six different vantage points, they can create their own talk group, right there on scene," Patterson said. "They're doing it right through their phones, and it's secure—it's encrypted, so no one else can listen. That's a big thing.
Establishing talk groups quickly is not a unique capability in the push-to-talk-over-cellular (PoC) arena, but getting this functionality with the security, reliability and support that come with FirstNet is different, Patterson said.
"There are a lot of applications out there [on] smartphones … where those [features] are available—you can set up your own talk groups very quickly, and you can set up your own chat groups very quickly—but they're not encrypted, it's not secured, it's not backed up, and it's not supported. If it goes down with whatever your individual carrier is, or if there's a malfunction on the site, there's no support.
"Whereas, with FirstNet Push to Talk, you have all of that. You have the encryption. You have the support. You have the backend. You have everything you need to make sure that, when you need it, it's going to work."
Getting FirstNet PTT into the hands of first responders—as Cranford was able to do during its beta trial—is critical to gaining public-safety acceptance of the technology, Patterson said.
"That's the big hurdle with the new technology coming into the first-responder realm and especially the law-enforcement realm—people get very comfortable with what they know," Patterson said. "So, when you tell them, 'I'm taking away your radio, but I'm going to give you a basically cell phone that works like a radio,' they become nervous.
"You have to show them that this is going to work as well—if not better—[than LMR] … It's one of those things where you can tell them all you want, but first responders are a 'Show me' population, where they want to see it, they want to touch it, they want to know it works, and they want you to prove to them that it works. I think FirstNet's worked very hard at that, and they've done a good job doing that."
Initially, FirstNet PTT is only available to FirstNet subscribers that use the new Samsung Galaxy XCover FieldPro, a rugged LTE smartphone optimized to support MCPTT. Members of the Cranford police department trialing FirstNet PTT applauded the device.
"We actually wished we could have kept all of those Samsung XCover Field Pros—we liked them quite a bit," Patterson said. "Most of our specialized people and our detectives have the Galaxy S9s, and when we put these Field Pros in their hands, they were like, 'When are we getting these? When can we trade in?' I said, 'Relax. I don't even think that these are on the market yet. You're not getting them.'
"But everybody really liked them. The Sonim XP8s, those are great rugged phones, but they're like carrying a brick … you carry enough equipment, and they're pretty big. Whereas the FieldPro was really the perfect blend of being similar to radio operations—it has the push-to-talk button on the side, and the controls are pretty easy—but it still has the feel, the size and the weight of a typical smartphone."
Cranford police department trialed FirstNet PTT before the Samsung Galaxy XCover FieldPro was launched commercially, so there were not a lot of available accessories to use with the device, Patterson said. Despite the limited choice, the accessories provided met the important criteria of not requiring users to alter their existing operations, he said.
"The accessories that they had were exactly what we're using in the field now for the Motorola LMR radios, where they had wireless shoulder mics and things along those lines, which would be exactly what we're used to using now," Patterson said. "And it's similar technology, in that it's seamless, it's connected, it's secure.
"When cellular bypasses LMR and becomes the norm in public safety, the only thing that's changing is the network that you're working off of."
Cranford police did not conduct any testing of the MCPTT off-network or direct-mode communications, such as LTE proximity services (ProSe), Patterson said. However, it is rare for personnel in Cranford—located 18 miles west of New York City—to be outside cellular coverage.
"Being where we're located, our cellular coverage is pretty good, so we don't really run into many—if any—network issues, other than in large buildings where there just isn't a lot of cell signal inside, no matter what," Patterson said. "And that's a problem with LMR equally. I would actually think that the cellular is probably better than the LMR in those [in-building] situations, just because you typically have a cell antenna closer to that building than you would a repeater or whatever else you're working off of on LMR."
Patterson also noted that using an LTE device provides the option of communicating via Wi-Fi when inside facilities—an arrangement the Cranford police department has with several institutions and owners of large buildings—that is not possible with their LMR devices.
Cranford police recently migrated its LMR communications from its own radio system to a statewide P25 Phase 2 owned by the state police, and the 25% of the Cranford police officers that utilize EPTT are able to interoperate with LMR users in the same talk groups, Patterson said. Such LTE-LMR interoperability is expected to be supported with FirstNet PTT in the future, but no timeline for introducing this functionality has been introduced yet by AT&T or the FirstNet Authority.
"I think that's an important thing for most people with [FirstNet PTT], especially when they're using both FirstNet and LMR, to have them be able to interop," Patterson said, noting that there also was no ability for FirstNet PTT users to interoperate with EPTT users during the Cranford trial.
Such a lack of interoperability was among the reasons that the Cranford police department is continuing to use EPTT instead of the new FirstNet PTT, according to Patterson.
"We're really congested in New Jersey, and we have a lot of overlapping jurisdictions—you'd need to have almost a regional buy into it, so that the communication [between jurisdictions] can continue," Patterson said. "In New Jersey, we're not there. We have neighboring towns that do use FirstNet, just like we do, but it's a supplement to our LMR, not a replacement just yet."
Another issue is that FirstNet PTT currently is available only to those using the Samsung Galaxy XCover FieldPro, which is priced as a high-end LTE device.
"We don't have those devices, so we're sticking with Enhanced Push to Talk for right now," Patterson said.
When asked if the Cranford police department would switch to FirstNet PTT, if money for the Samsung Galaxy XCover FieldPro devices were available, Patterson said, "Oh sure—absolutely."
One way Cranford police could get the funding needed to provide FirstNet PTT would be to abandon LMR entirely, Patterson said.
"For us currently, with an upgraded LMR system, it's definitely a supplement—and it's not a supplement for all officers, it's a supplement for officers in certain assignments, with our budget," Patterson said. "But absent our LMR costs, it's absolutely affordable; it's absolutely something that could fit into our budget."
Until then, paying for both FirstNet PTT and LMR is not financially realistic, Patterson said.
"It's a luxury," Patterson said. "And unfortunately, a lot of budgets don't have that luxury.
"That's the challenge now. I think, as it [FirstNet PTT] becomes more universally utilized, the LMR portion is not going to be competing with that, whereas now, it is—especially where we operate here."
But migrating from LMR to FirstNet PTT soon will be the best option for public-safety agencies in the right situations, according to Patterson.
"It makes complete sense. It really does," Patterson said. "Again, the biggest hurdle that I see right now is merely the amount of first responders using it, so that interoperability is there.
"That's the only hurdle. I think, over time as this goes, it's just going to build and build and build, and eventually, that hurdle's not going to be there."
---
Source: Donny Jackson, Urgent Communications. Photo Credit: Samsung.